Ring of Kerry Golf Course - Par 72 - 6,814 Yards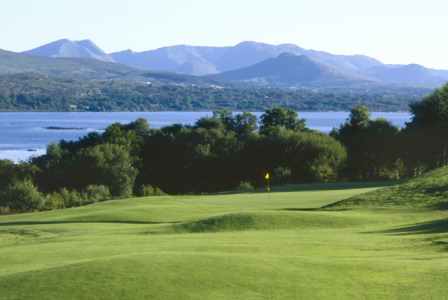 The Ring of Kerry Golf & Country Club is located amidst the most stunning scenery imaginable. Overlooking beautiful and serene Kenmare Bay with the Kerry mountains providing a wonderful backdrop, the setting is surely one of the best in Ireland. The course itself, 6814 yds from the medal tees, is hilly with dramatic elevation changes and a challenging layout. Lakes abound ready to catch your errant ball, should you be distracted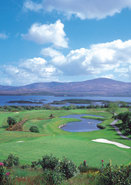 from your shot by the surrounding views. Strictly speaking a Parkland course, it has a definite links feel given its sand-based fairways and greens and its proximity to the bay.
Two of 'The Ring's' signature holes lie on the back 9. Hole 13, 'An Neidin', is a 200 + yd Par 3 from an elevated tee which provides fabulous views of Kenmare Bay. The green slopes heavily from left to right and is protected by water. Par is a good score for this hole. Hole 14 'Tahilla' is 'The Ring's' number 1 index hole. A long par 4, it requires length and accuracy off the tee. The fairway narrows all the way to the green and is surrounded by trees with a huge bunker in front. On the front 9, hole 5 'Moll's Gap' is a short par 5, usually into the prevailing head wind. It's a classic risk/reward 2 shot to an elevated green which is guarded by a steep incline and water.
In short, the Ring of Kerry Golf & Country Club is a beautifully-designed course set amidst unbelievable scenery, where every hole is memorable.
---
Quotes and Comments
"The Ring of Kerry Golf & Country Club is one of my favourite courses in Ireland with its stunning views, challenging layout and great hospitality"
- Ian Botham (English Cricketer and Healthy Grandad)

"I have playe most6 of the major championship courses in the world and none betters the Ring of Kerry"
- Philip Walton (Irish Ryder Cup Hero)
"A superb course set amidst the finest scnery in the world"
- Terry Wogan (BBC Radio and Television Broadcaster)
"Truly awesome! A great challenge of golf, but manageable in truly amazing scenery"
- Mal Keavaney (Sports Editor/Munster Press Golf Cociety Captain)
"Wonderful location. Lived up to and surpassed expectations"
- Nick Lanigan, England
"The most beautiful and the most challenging course I have ever played"
- Mrs. Pat Garth, England
ADD A COMMENT | RATE RING OF KERRY GOLF COURSE
For a guide to southwest Ireland and its golf courses visit our regional golf pages.
---
Notable Notes
BBC broadcaster Terry Wogan runs an annual Children in Need charity auction. In 2003 the Ring of Kerry Golf Club put a prize of glifhts, accommodation and a round of golf at the Ring with English cricketer Ian Botham. This raised £11,000 for children's charities in 2003 and £12,000 in 2004.
---
Return to Index of Golf Courses in Ireland
** This golf guide is under development and any feedback or comments are appreciated. If you have played golf in Ireland please let us know where and your thoughts on the golf courses you have played.
For a sample golf tour itinerary of southwest Ireland that includes the Ring of Kerry Golf couse see our Killarney based golf vacation.