Royal County Down Golf Club - Par 71 - 7,167 Yards
Royal County Down is a links course that is renowned worldwide as one of the finest links test in the world. The first nine are ranked by many as the finest opening nine anywhere although this does not imply that there is anything second rate about the inward half.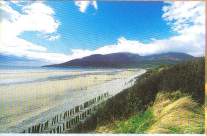 Royal County Down lies to the north of the seaside town of Newcastle on the east coast of Ireland. Washed by the waters of the Irish Sea at Dundrum Bay, the course lies in the shadow of the impressive Mourne Mountains.
There is little time to enjoy the scenery here, although it can provide a soothing distraction from the testing examination posed by the golf course. Accuracy from the tee is critical, there is little room for error and those errors are severely punished, whether by the infamous Royal County Down rough, the many hundreds of bunkers that litter the course or the impossible seaside shrubbery, especially the magnifcent yellow gorse, that line the fairways.
A hole by hole guide is available at the Royal County Down website.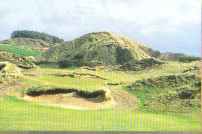 A caddy is almost essential, there are several blind tee-shots and caddies are expert at knowing exactly where a stray ball will be. It is also highly recommended to follow the course marshal's advice on the tees to be played - enjoyment of your game will be rewarded.
Without question in the top 3 golf courses in Ireland, Royal County Down should not be missed by the proficient golfer and can provide a memorable and rewarding experience for higher handicap golfers who bring patience and persistence to the course.
---
Quotes and Comments
ADD A COMMENT | RATE ROYAL COUNTY DOWN GOLF LINKS
For a guide to Nothern Ireland and its golf courses visit our regional golf pages.
---
Notable Notes
---
Return to Index of Golf Courses in Ireland
** This golf guide is under development and any feedback or comments are appreciated. If you have played golf in Ireland please let us know where and your thoughts on the golf courses you have played.
For tales, stories and legends about Irish golf as told by golf visitors see our Golf Vacation Scrapbook.