Tullamore Golf Club - Par 70 - 6,428 Yards
Founded in 1886 Tullamore Golf Club is situated in the heart of Co. Offally under the watchful eye of Slieve Bloom. As with many of the older courses it is set in the grounds of the Charleville estate that once belonged to the landed Bury family. Irish golf course architect Pat Merrigan reconfigured and redesigned the original James Braid design of Tullamore golf course to make a good test of golf even better. The result is an ideal blend of old and new and Tullamore golf club won the 2002 AIB Golf Club Of The Year Award for Clubhouse/Course Presentation.
Fairways lined with mature trees give the course an unmistakable parkland feel with several water hazards dispersed strategically to penalize any wayward shots. Tullamore has long had the reputation of having some of the best kept greens in the country. Not long (under 6,500 yards off the championship tees), the course demands finesse rather than power. There are many doglegs making one wonder if driver is a wise club to have in hand off the tee.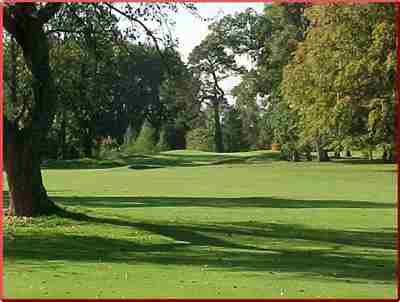 The stretch of holes from the par-5 fourth through to the short but tricky 8th provide a great opportunity of making a few shots on the course. To do so you must have confidence on each tee-shot, as a lack of commitment will have you searching the golf bag for the extendable ball retriever. For big hitters it is possible to hit the 9th green if you cut the dogleg, many have tried it and nearly as many have regretted doing so.
The back nine at Tullamore will look to recover any shots that you might have picked up on the front. From the long par-4 14th through to the 18th , it is as tough a stretch of closing holes as you would wish to meet, all having different character and challenges. Beware the stream in front of the 16th green - although not a long hole the mental gremlins can set in and leave you in the water unless the approach is hit with authority. At 17 you nearly always need a long iron to reach this par 3, anyone making par here should be happy walking on to the 18th tee. The 18th is as fine and fitting a finishing hole to be found in Ireland. Keep left off the tee otherwise a copse of mature fir trees will force you into evasive action, too far left and your approach will be in danger of being pulled down by some of the mature trees standing proudly down the left flank.
Tullamore is an exceptionally good parkland course. Very level, it provides a thoroughly enjoyable game for both experienced and novice golfers and for golfers of all ages.
---
Quotes and Comments
ADD A COMMENT | RATE TULLAMORE GOLF COURSE
For a guide to Midland Ireland and its golf courses visit our regional golf pages.
---
Notable Notes
---
Return to Index of Golf Courses in Ireland
** This golf guide is under development and any feedback or comments are appreciated. If you have played golf in Ireland please let us know where and your thoughts on the golf courses you have played.
For sample itineraries of golf tours in Ireland visit the golf holidays in Ireland section of our website