Westport Golf Club - Par 73 - 6,980 Yards
Westport Golf Club, although situated by the western seaboard on the shores of Clew Bay, is not a links course. It is however one of the finest golf courses in Ireland.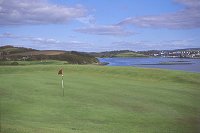 The first six holes are relatively benign, but good parkland holes nonetheless. They offer the chance to build a good score early on - but

there is danger on each hole, not least the out-of-bounds that runs the length of the par-5 fourth hole.
The seventh hole is a par-5 where the first water hazard of the day comes into play on the right hand side. This lake also protects the large undulating green. The next hole (8) is a recently modelled par-4 that is both long and mean. The new green is set beside another lake and this presents all sorts of difficulty for the long iron or fairway wood approach.
The tenth hole is one where you are looking for par - water flanks the entire left hand side and the approach must be played towards it. The 12th hole is a par-3 played from an elevated tee, if the wind is against it can require a driver and a mid-iron! A four is very respectable here - a great golf hole.
The feature hole is undoubetly the par-5 fifteenth. The drive is across an inlet, and the shoreline runs the entire left hand side. Approach the green with caution on this super hole.
Recent redesign of the par-5 eighteenth has made it into another memorable golf hole. This time the trouble runs all down the right hand side. Aim for the centre of the green for the best chance of a 2-putt.
---
Quotes and Comments
"The nature of the terrain, part inland and part seaside, the panorama which it commands and its considerable golfing virtues, make it uniquely attractive and memorable."
Fred Hawtree - Course Designer
ADD A COMMENT | RATE WESTPORT GOLF COURSE
For a guide to Western Ireland and its golf courses visit our regional golf pages.
---
Notable Notes
---
Return to Index of Golf Courses in Ireland
** This golf guide is under development and any feedback or comments are appreciated. If you have played golf in Ireland please let us know where and your thoughts on the golf courses you have played.
For sample Western Ireland golf packages visit our Irish Golf Tours page.