Woodstock Golf Club - Par 71 - 6,450 Yards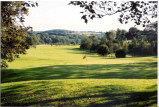 Founded in 1998, Woodstock is situated in pleasant countryside on the outskirts of Ennis. It features a tough opening hole, a loop of holes (6-8) around a lake that can spoil a card early, and provides six excellent finishing holes. In between there are good scoring chances.
The course is protected by several natural lakes, a river, and mature wooded areas. The Par-4 seventh features a tee-shot from an elevated position across a lake to an island fairway. The second shot requires a fairway-wood or long iron across the same lake to a large two-tiered green also protected by bunkers. A lay-up area is available to the right of the green and must always be considered. The next hole is a Par-3 that requires a full carry across water to a green protected on both sides. No wonder it's called 'Woodstock's Amen Corner'.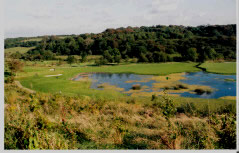 ---
Quotes and Comments
"I knew on my first visit to Woodstock that we had an outstanding site on our hands, many natural holes on the land certainly encouraged the layout of a golf course. Woodstck will quickly become a magnificent test of skill and shot making for players of all handicaps. The exciting features of the site including the gentle rolling landscape, the river, the lakes and the splendid scenery will give pleasure to golfers throughout the twelve months of the year, this been made possible by the rapidly draining terrain. I have no doubt that Woodstock will be capable of housing championships, both amateur and professional in the not too distant future. The course in its short existence has received many praises from both members and visitors alike."
Dr. Arthur Spring (Course Designer)
I sit and gaze and marvel at all I see
The wondrous beginning from an Embryonic state
Nurturing in the bosom of the family members
Growing strong, creating its own uniqueness
And all this time more people walk its fairways,
Marvel at its youthful vigor
And I for a short time had the privilege
Of presiding over all its magic – Woodstock.
- a Woodstock member
Fantastic experience and very friendly welcome. The first 4 holes are straight - forward enough but don't be lulled. This course is built on top of a very windy hill. If it blows you need to have your fade worked out. The 6th, 7th and 8th holes are 3 of the finest built around water in Ireland and will either make or break you round. The course is hilly and you will not just be out for aerobic exercise - particularly on the walk up from the 8th - known locally as 'Heart Attack Hill'. Most pin positions are on a slope so prepare for some interesting lines on your puts. Misjudge a putt on this course and you are ruined! Overall - a great day out and much quieter than the attraction of Links golf in Lahinch.
Ronan Webster
ADD A COMMENT | RATE WOODSTOCK GOLF COURSE
For a guide to Midwest Ireland and its golf courses visit our regional golf pages.
---
Notable Notes
---
Return to Index of Golf Courses in Ireland
** This golf guide is under development and any feedback or comments are appreciated. If you have played golf in Ireland please let us know where and your thoughts on the golf courses you have played.
For professional service in planning and organising your golf holiday to Ireland visit our Irish golf holiday planning page.