Irish Golf Holidays - Down to a Tee
Ireland is a wonderful place to play golf with over 400 golf courses on the island. Tailor-Made Golf Tours is a golf holiday company owned and operated by three avid golfers. We have played most of these courses and have chosen only those that offer the best golf holiday experience.
Your Irish golf holiday package could not be simpler - just follow the steps below. Alternatively go straight to the Tailor your Golf Holiday section and complete the enquiry form or simply e-mail us directly at golf@tailor-madetours.com with the details of your requirements.
1.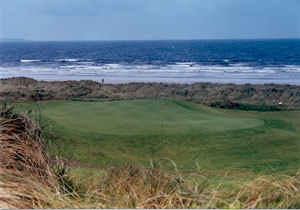 Choose Your Golf Courses
Look at the Golf Courses section to choose the great value golf courses your group would like to play. Choose any courses from any regions and let us know if you would like details of other courses that haven't made it to our list.
2. Decide an Outline Tour Format
Do you want to travel around or stay in the one place? Which towns sound most appealing to stay in? The Ireland Golf Tours section provides a number of different tour option examples.
3. Check the Cost of your Holiday
Discover the value difference we can bring by using our online cost calculator.
4. Customise Your Perfect Irish Golf Holiday
Take 5 minutes to complete our initial golf holiday enquiry form. We will respond within 24 hours with a preliminary itinerary and no-obligation quote for your tour.
Use our quick golf holiday advice form if the details of your tour are not fully finalised.
Your Golf Holiday Caddy
Our mission is to provide our clients with a first rate Irish golf package. Our market knowledge is unbeatable and our attention to detail is impeccable. As with all good caddies, we are here to serve. This service includes:
Advice and help in planning your tour itinerary including non-golf activities

Arrangement of all tee-times (including buggies, trolleys etc.), accommodation, ground transport and any selected non-golf activities

Detailed tour information pack delivered prior to arrival

Meet & Greet on arrival in Ireland

Full support service during your tour

Recommendations on where to eat & drink

Anything else that will ensure your golf group has the best golf holiday possible
---
We want you to have a great holiday. Once you have received the preliminary itinerary we will work closely with you on the details until we are happy that every detail has been covered. It's part of our difference.
While you are waiting for your preliminary itinerary visit our Golf Holiday Information section. This provides general Irish travel and golf specific information. Please also read our Terms and Conditions.
Peter, Kim & Angela
Tailor-Made Golf Tours
Cork, Ireland 2015