Southeast Ireland Golf Travel Guide
Golf Guide -> Southeast (Southeast Golf Course Directory)
Ireland's southeast region, known as the 'Sunny Southeast' provides a magnficent selection of the finest parkland golf in Ireland.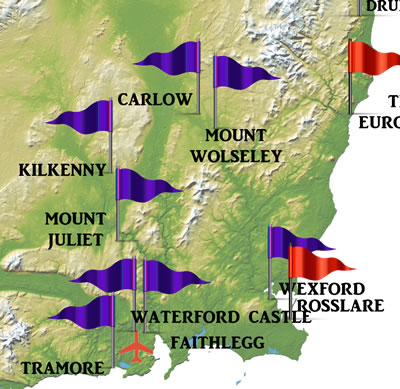 The medieval city of Waterford, a major port that saw the arrival of the first Vikings to Ireland, is Ireland's fifth largest city and provides a suitable base to explore the great golf courses in this golf region.
To the east of Waterford is County Wexford, a county steeped is history - especially of rebellion. The town of Wexford is another ancient port while further southeast Rosslare is one of the two major ferry ports for visitors to and from the U.K and France.
Kilkenny is one of Ireland's smaller cities but also one of the most attractive. Pleasantly situated on the banks of the River Nore, Kilkenny retains its medieval atmosphere and there are numerous attractions and sights within the immediate area.
Carlow is one of Ireland's main towns, just over 1 hour from Dublin. Tramore is a pretty seaside resort, very popular with Irish holidaymakers because of its magnificent beach.
Other Regions: West | North and Northwest | East | Southwest | Midlands