23rd April: Tim Coravos Launches TMGT Hole-in-One Club
A landmark day in the history of Tailor-Made Golf Tours as Mr. Tim Coravos became the inaugural member and honorary president of the Tailor-Made Golf Tours HIO Club.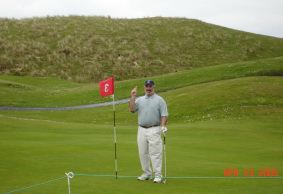 Tim, a 14 handicap member of Sterling Country Club in Massachusetts, arrived in Ireland on Friday morning with another TMGT regular Mike Deloney and Irish first-timers Evan and Joe Magnone. Evan and Joe were introduced to the delights of Irish links golf on the Cashen Course at Ballybunion - steady rain and 40 m.p.h. gusts.
Saturday however, dawned bright and pleasant and the foursome enjoyed the Old Course, in good shape after a recent Irish ladies tournament proved a real winner, with excellent greens that would be a credit at any time of year.
Later on Saturday afternoon, in increasingly freshening winds the group tackled the Cashen Course for the second time. The Cashen Course greens, still in a transition phase after the vagaries of the unusually mild Spring weather, were proving a little more tricky. Tim solved all these problems at the par-3 third hole, by hitting a low 6-iron, slamming against the flagstick and into the hole!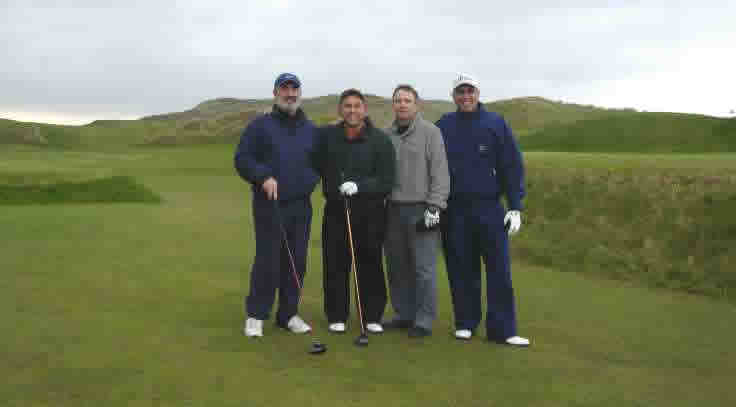 After Evan announced the news to the assembled members and guests in the clubhouse bar, the bell was rung and Tim stood the house a drink in time honoured fashion.
This was the first hole-in-one recorded by a Tailor-Made golfer on tour in Ireland and we are thrilled that this club is now officially launched. Tim has become the inaugural member and honorary president of this club that we hope will have many members!