CORK GIRL SECURES LET CARD
27th November 2006: Clare Coughlan, a member of Cork Golf Club finsihed tied for 1st place at the 8-round LET Qualifying school at La Cala, Spain to secure full playing priveleges and become Cork's first lady professionl golfer . Read on>>
Cork Golf Club | Irish Ladies Golf Union | Southern Golf Tour
GUI HEADQUARTERS AT CARTON HOUSE
28th February 2006: The GUI, the oldest golf union in the world has relocted its headquarters to a brand new facility at Carton House. Read on>>
Golfing Union of Ireland | Carton House Golf Club| Eastern Golf Tour
Tailor-Made Golf Tours Hole-in-One Club
23rd April 2005: A landmark day in the history of Tailor-Made Golf Tours as Tim Coravos, from Boston holes out with a driver at the par-3 3rd hole on the Cashen Course at Ballybunion. Read on>>
St. Anne's Golf Links - Pure Enjoyment
16th March 2005: Our first road trip of 2005 began today with a visit to the recently upgraded St. Anne's Links on Bull Isalnd outside Dublin Read on>>
Double Irish Joy for Harrington & Smyth
14th March 2005: An Irish double on the PGA tour was completed yesterday when both Padraig Harrinton and Des Smyth recorded their first wins on the PGA and Champions Tour respectively. Read on>>
Ryder Cup Ticket Announcement
10th March 2005: It was confirmed yesterday that the paid attendance to each day of the Ryder Cup matches would be limited to 40,000. 32,500 tickets per day will be 'available' to the public but no information is forthcoming as to how many will be allocated to the global lottery, details of which will be announced at the Irish Open in May. Read on>>
Lee Leads his Team to K-Club Glory
8th March 2005: Carton House owner Lee Mallaghan led his team to a comfortable victory on the Palmer Course at the K-Club at the annual IGTOA Networking Event and Awards dinner. Meanwhile the hugely successful event, organised in chief by Catherine Murphy, goes from strength to strength and there were several worthy award winners. Read on>>
Carne Golf Links - IGTOA Course of the Year 2005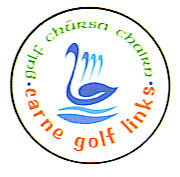 8th March 2005: James O'Hara, General Manager of Carne Golf Links accepted the award for Golf Course of the Year at last nights IGTOA Awards dinner at the K-Club in a futher boost for golf in west and northwest Ireland Read on>>
IGTOA Networking Event and Awards Dinner
5th March 2005: Not quite Masters weekend but the clubs have been taken from the attic in preparation for this weekends IGTOA get-together at the K-Club that will include a round on the Ryder Cup Palmer course. Read on>>
Ian Woosnam to Captain Europe at the K-Club
2nd March 2005: As expected, Welshman Ian Woosnam has been announced as European Captain for the Ryder Cup in Ireland in 2006 at the K-Club. Woosnam has many ties with Ireland... Read on>>
Max Faulkner, Open Champion 1951, R.I.P.
1st March 2005: The BBC has announced the death of former Open Champion, Max Faulkner at the age of 88. Max won the 1951 British Open, the only Open to have ever been staged in Ireland at Royal Portrush Golf Club. Read on>>

Ernie Els to Design Course at Hangman's Point, Kinsale
3rd February 2005: XCES Projects, an Irish based company planning the development of a 5***** golf resort overlooking Kinsale Harbour have unveiled Ernie Els as the designer of the signature golf course that will add to the attraction of Cork/Kinsale as a golfing destination in Ireland. Read on>>
Paul McGinleys Design Ambitions in Donegal
10th January 2005: News of a proposed golf development in County Donegal that has been re-awakened after a Christmas function to honour County Donegals adopted son, Paul McGinley. Read on>>
Irish Amateur Golf Calendar 2005
5th January 2005: Details of the dates and venues for some of the major Irish amateur golf champioships have been announded by the Golfing Union of Ireland. County Sligo and County Louth, annual hosts to the West and East of Ireland championships are joined by Royal County Down, Carton House and Westport. Read on>>
Druids Glen - European Resort of the Year 2005
16th December 2004: Druids Glen Golf Resort has been awarded the IAGTO European Golf resoort of the Year award for 2005 Read on>>
Ryanair to make Shannon Airport 12th European Base
1st December 2004: Ryanair have announced that Shannon Airport will become its 12th European base and has announced 8 new routes to Nottingham, Gatwick, Luton, Barcelona, Stockholm, Miland, Dusseldorf and Hamburg. Read on>>
Darren Clarke to Build World Class Golf Course in County Down
30th November 2004: Darren Clarke, a native of Northern Ireland, is to build a championship golf course in the grounds of Gilford Castle in County Down. Read on>>
Aer Arann Routes from Manchester and Birmingham to City of Derry
28th November 2004: Aer Arann are operating daily services from Birmingham and Manchester to City of Derry airport Read on>>
Ryanair Announce New Liverpool Routes
21st November 2004: Ryanair have announced new daily services from Liverpool's John Lennon Airport to both Shannon and Cork. Read on>>
New 16th Hole at Royal County Down
Newcastle, County Down
19th November 2004: We have heard an excellent report on the new 16th hole at Royal County Down Read on>>
Moriarty Advances to Qualifying School Finals
Athlone Golf Club, Athlone, County Roscommon

7th November 2004: Colm Moriarty, our ex-amateur colleague from Athlone Golf Club, dug out a birdie on the first playoff hole at El-Bosque Golf and Country Club to book his place in the final qulaifying school at San Roque next weekend. 8 players stood on the first tee for just 3 remaining final spots and Colm told us "That was as much pressure as I've ever had on a golf course. I am really pleased with the way I handled it". Read on>>

Els Secures WGC American Express Championship
Mount Juliet Golf Club, County Kilkenny
4th October 2004: Ernie Els finally won a tournament in Ireland on Sunday with a one shot victory over a rejuvenated Thomas Bjorn at Mount Juliet Golf Club in County Kilkenny. "I've never won on my many visits here," Els stated. "To finally do it in front of these wonderful people really is special." David Howell finished third while Sergio Garcia and Darren Clarke tied 4th which gave a clean sweep of the top placings to European Tour members. Read on>>
Southeastern Golf Index | Southeastern Golf Map | Mount Juliet Golf Club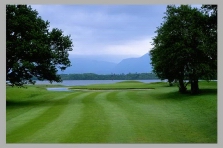 Killarney Killeen Course to Close for 2005
Killarney Golf & Fishing Club, County Kerry
1st October 2004: Killarney's flagship Killeen course, host for the Irish Open from 1990-1992 will close at the end of 2004 to undergo major redevelopment. Killarney club manager, Tom Prendergast says "The Killeen course will undergo a total revamp of tees and greens to improve drainage and make the course more immune to wet weather. No major layout alterations are planned".
Southwestern Golf Index| Southwestern Golf Map | Killarney Golf & Fishing Club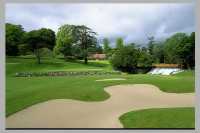 Montgomerie Course to Host Nissan Irish Open 2005
Carton House Golf Club, County Kildare
29th September 2004: The new Montgomerie course at Carton House Golf Club, just west of Dublin, will host the Nissan Irish Open from May 19th to May 22nd, 2005. Having successfully staged the Irish Amateur Open Championship in 2004 this is a major boost to Carton House which boasts two championship golf courses designed by Colin Montgomerie and Mark O'Meara.
Eastern Golf Index | Eastern Golf Map | Carton House Golf Club