The West's Awake (Thank you Michael)
1st December 2004:
Golfers from all over the U.K. and Europe can now access the golfing delights of midwest, western and southewest Ireland with Ryanair's announcement that Shannon Airport is to become the airlines 12th European base.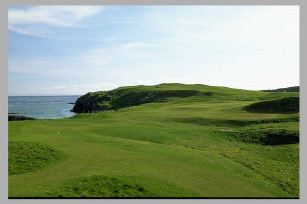 New routes have been announced from London Luton, London Gatwick and Nottingham bringing the total number of direct U.K. services to Shannon to six. Further route announcements are expected. Full air route lists are updated.
New routes to Barcelona, Dussledorf, Hamburg, Milan and Stockholm have also been announced. Full air route lists are updated.
From May 3rd 2005 four new Boeing 737-800 aircraft will be allocated to Shannon to service these routes. Full details of the announcement are available on the Ryanair website.
Shannon Airport is in the heart of the midwest golf region just 1 hour from Lahinch Golf Club while Dromoland Castle is less than 10 minutes from the airport. Galway or Westport, in the heart of the western golf region are 1 and 2 hours drive respectively while the famous southwestern courses of Kerry are also accessible from Shannon in similar times.
Shannon Airport also has the advantage of very short times from landing to rental car pickup, typically less than 25 minutes. Ryanair flights can be booked online.