Clarke to Build Golf Course at Gilford Castle
30th November 2004:
Northern Ireland's Darren Clarke is to relaise his dream of building a world class championship golf course. Plans are in place to build the course in the wonderful setting of Gilford Castle in his native County Down.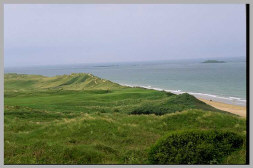 Darren plans to transform the picturesque estate into an 18-hole championship golf course and academy. He told BBC Sport "I want to build a championship golf course that's fit to stage one of the biggest tournaments in the world. I would also like a course that the amateur can enjoy aswell."
The course is intended to complement the world famous Royal County Down and Royal Portrush (Dunluce) courses and Clarke hopes to emulate the status of those links. "We have two famous championship courses which are known worldwide," said the world's number 12 golfer, "My idea and concept is to make Gilford every bit as good as those two so that Northern Ireland would have three of the top courses in the world.
"Naturally I'm very excited about doing my first course at home, especially somewhere as good as Gilford Castle".
Gilford Castle is a 19th century house in parkland above a wooded valley adjacent to the River Bann. Gilford is located halfway between Banbridge and Portadown on the main A50 route. It is 40 minutes from Newcastle (Royal County Down) and 1 hr. 50 mins from Portrush. It is 40 minutes from Belfast and 1 hr. 50 minutes from Dublin.
The course will be over 7,000 yards around the estate and will include the River Bann as a major water feature. Planning permission for the project will be sought in 2005.