Sample itinerary arriving to Shannon Airport and departing from Dublin Airport 15 days later.
Day 1 - Lahinch Golf Club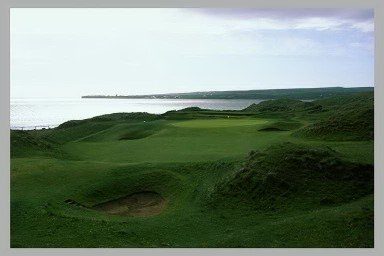 Meet with Tailor-Made Golf Tour representative or chauffeur on arrival. The magical links at Lahinch will invigorate the spirit and banish any thoughts of jetlag. Visit the Cliffs of Moher travel via the north Clare coast to Galway for dinner. Overnight in Galway.
Day 2 - Connemara Golf Club
The superb links at Connemara is the first of several hidden gems, many of which were designed by Eddie Hackett. Continue via the Connemara coast to Westport, a spectacular journey. Overnight in Westport.
Day 3 - Carne Golf Links
On the remote Erris peninsula in the nortwest corner of County Mayo, the golf links at Carne is sure to be the best course in the world that you have never heard of. Overnight in Westport.
Day 4 - Enniscrone Golf Club
Another superb links, updated in recent years to take a more testing and interesting route through the dunes. Provides a wide variety of interesting holes and an exhilirating finish. Continue to Sligo.
Day 5 - County Sligo Golf Club at Rosses Point
Just 5 miles northwest of Sligo town, the links at Rosses Point is home to County Sligo Golf Club. A relatively well known course, Rosses Point always provides a severe test in an ever present wind. Overnight in Sligo.
Day 6 - Doneal Golf Links at Murvagh
The golf links at Donegal Golf Club lies between mountains and sea. Measuring over 7,300 yards from the championship tees, the course requires long and straight hitting some of the time, careful placement at others. Also recently upgraded to remove some of the weaker aspects, Donegal never disappoints. Overnight in Milford or Portsalon.
Day 7 - Sandy Hills Links at Rosapenna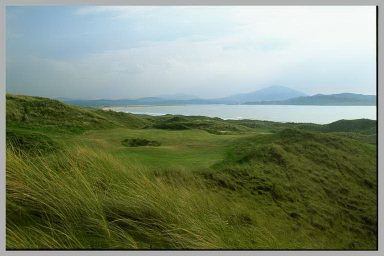 Ireland's latest addition to the links roster is a Pat Ruddy creation, the Sandy Hills Links at Rosapenna Golf Club. Where Old Tom Morris designed the Old course naerly 100 years ago between the dunes and the sea, Ruddy has created an 18-hole wonder that runs right through the dunes. The ball must be on the fairway at all costs and the traditional links bump and run is not an option to these elevated and protected greens.
Day 8 - Portsalon Golf Club
Watching the sun rise over and then playing this truly great links is a memory that will be cherished forever. Pat Ruddy has updated this once very good and now premier league golf links. Portsalon is beautifully situated by the shores of Ballymastocker Bay. After golf take a leisurely drive along the Fanad peninsula and around Lough Swilly to Ballyliffin.
Day 9 - Old & Glashedy Courses at Ballyliffin
36 holes of first class links golf are available at Ballyliffin golf club. The two courses contrast the older, traditional links as typified by the Old Course and the more modern designs as presented by the Glashedy course (also the work of Pat Ruddy). There are several elevated points on each golf course where you can survey the immense beauty of the setting and are filled with envy of the local members. Overnigh Ballyliffin.
Day 10 - Portstewart Golf Club
Travel from the Inishowen peninsula acoss Lough Foyle by ferry and a short drive east along the north coast is Portstewart golf club. In the shadows of the reputation of its near neighbour, Royal Portrush, Portstewart is nevertheless a truly great links golf course. The Strand Course combines magical scenery with a classic links layout along 2 miles of golden sandy beach.
Day 11 - Royal Portrush
The Dunluce course at Royal Portrush is one of the great golf courses of the world. The venue for the only Open Championship ever to be held in Ireland (1951), Royal Portrush consistently features in all major golf course rankings. Many consider the Dunluce links to be thye finest golf experience in Ireland and the course is always in excellent condition.
Day 12 - Royal County Down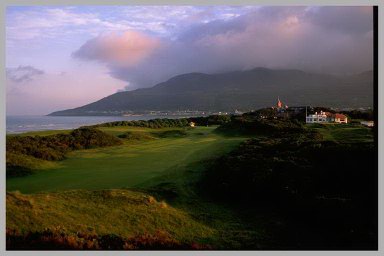 Another course to consistently feature in all major golf rankings, Royal County Down is a pure links, and a pure gem. Many rate the outward half as the best first nine holes anywhere. Straight hitting is required and the penalties for missing are severe. Caddies are especially advisable at Royal County Down as several of the tee-shots are blind. There are also several teeing grounds and discretion should be exercised when choosing them! Continue to Drogheda, County Louth for overnight stay.
Day 13 - County Louth Golf Club, Baltray & The Island Golf Club
As the discussions continue as to the relative merits of the hiddeen gems that are now uncovered against the famous courses already played, we revert to some coparatively unknown links. Sandwiched approximately halfway between Royal County Down and Portmarnock, the golf course at Baltray (County Louth Golf Club) has always been recognised in Ireland as a fine links. Its reputation has been enhanced by the recent staging of the Irish Open.
A short drive down the coast is another relatively unknown links, The Island Golf Club at Donabate. Several major Irish amateur championships have been held here (the course record being set in one by Darren Clarke) and it too had its reputuation enhanced in Europe when the 2004 European Amateur Team Chamionships were held. Another short hop takes you to Portmarnock village for your overnight stay.
Day 14 - Portmarnock Golf Club
There could be no better way of completeing this golfing odyssey than at Portmarnock Golf Club. The peace and tranquility belies its situation just outside a huge city. Gaze across Dublin Bay to the south and the Irish Sea to the east. Then focus!, because Portmarnock golf course is another real test with many tee-shots requiring both line and club to be carefully considered. Final night in Portmarnock.
Day 15 - Departure from Dublin Airport