Irish Golf Travel Information
This section provides some useful general information on Irish golf travel. Specific golf travel information is provided on our Golf in Ireland page.
---
GETTING TO IRELAND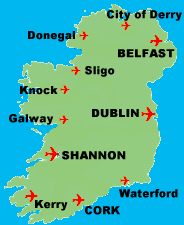 Ireland's major international airports are at Shannon, Dublin, Cork and Belfast. These are well served from Great Britain, Continental Europe and the U.S.A. There are numerous regional airports some of which have direct flights serving U.K. and European airports. Full information is available on the Golf Tour Arrivals page.
Either Shannon or Dublin airports are best suited to golf tours of the Midland region. Tours of the Western region are best using Shannon, Knock, Galway or Sligo. Belfast, Derry, Donegal or Sligo are the best airports for golf trips to the Northwest region. Dublin can be used as the arrival port for west and northwest regions but will require an extra 2-3 hours on arrival and departure days.
U.K. golf groups may prefer to arrive by ferry from the many routes available across the Irish sea. Principal arrival sea ports are Rosslare, Dublin (and Dun Laoighre), Belfast (and Larne) and Cork.
---
ARRIVING FROM U.S.A OR CANADA
Direct flights from the U.S.A. arrive in either Shannon, Dublin or Belfast airports. There is currently only one direct flight between Canada (Toronto) and Ireland (Shannon or Dublin). Flights may also be arranged via London or another U.K. airport.
Trans-Atlantic flights generally depart in the evening and arrive at Shannon or Dublin in the early morning. To adjust a 2-3 hour sleep is recommended in the late morning/early afternoon on the day of arrival. We normally arrange a transfer from the airport direct to your accommodation. Golf on arrival day is optional, for those dedicated golfers we normally arrange late afternoon tee-off times. We also recommend that the first night is spent close to the airport of arrival.
---
TRAVEL AND TRAVEL TIMES
Irelands road network is extensive but the quality of roads varies from motorway to narrow country roads. Major improvement programs are underway in certain places and roadworks are a common feature. Signposting is generally good but can be poor or missing in certain places.
As a general guide, expect to allow 45-50 miles per hour for any journey although this can vary depending on the time of day. Some rural routes (e.g. Westport to Belmullet) can be slower. Your tour information pack (self drive tours) will provide maps and detailed directions together with journey times. We will inform you during the tour of any expected delays so that appropriate allowances can be made.
---
PRICES
Recent publicity has raised concerns that Ireland is becoming an overpriced tourist destination. This is a result of economic success and there is an element of truth to the argument - especially in well known destinations.
Our golf courses are specifically selected because they offer real value (i.e. we do not consider them overpriced). We have thoroughly reserached the restaurants along our golf routes and our recommendations ( included in your tour information pack) only suggest establishments that we consider to provide value for quality and service.
---
CURRENCY
Ireland's currency is the Euro (€). Currency exchange is widely available at airports, banks, hotels and tourist offices. Irish banks are part of international networks and accept foreign ATM cards including Plus, Link, Cirrus etc. Credit Cards are almost universally accepted.
Currency Converter <!END theFinancials.com Content>
---
NON-GOLFING ACTIVITIES
Ireland's tourist attractions include the relaxed atmosphere and famed friendliness of the people, a healthy environment and stunning scenery. Coupled with internationally recognised historical and literary associations, this makes the country a destination with a lot to offer for such a relatively small island.
Our regions are popular tourist destinations in their own right. From the majestic Shannon river and ancient bogs of Midland Ireland, to the speldour of Connemara and the wild Atlantic in the Western region, and the magnificent scenery of Donegal in the North West there is plenty to admire along your golfing route.
In addition to the scenery, activities and attractions are plentiful. They are more fully described in the Irish Golf Guide pages. A more comprehensive tourist guide to Ireland can be found by following the links below.
Golf Travel Information | Tee-Time Information | Information Page Index