Irish Weather
Ireland's famous weather is impossible to predict and nearly as impossible to describe! The reason for "The Emerald Isle" is the rainfall that keeps the many pastures green. There is simply no answer to the question 'What is the best time of year to play golf?' when asked in the context of weather. It could be any of the months from April to October and in any particular year any or all of these months could be fine and dry.
General Climate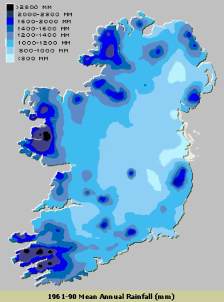 The Atlantic Ocean is the dominant influence on Ireland's climate and moderates the weather. Hence Ireland neither experiences extreme cold in winter or extreme heat in summer. Southwesterly winds from the Atlantic prevail.
Rainfall
The general impression that it rains quite a lot in Ireland is actually false! Two out of every three hourly measurements at the many measuring stations in Ireland will record no measurable rainfall. When rain does fall the amounts are generally very low ranging from 1-2 mm. per hour. Heavier rainfall does occur and hourly amounts of 10mm are not uncommon.
As can be seen from the rainfall chart (courtesy of Met Eireann, the Irish meteorological service) the highest rainfall is in the southwest, west and northwest regions.
Famous Irish Weather Quotes
'I remember last summer...it was on a Tuesday'
'In Ireland if you don't like the weather, wait 15 minutes'
When to Golf in Ireland | Golfing in Ireland | Information Page Index