Druids Glen Awarded European Golf Resort of the Year
16th December 2005:
Druids Glen Golf Resort has scooped the European Golf Resort of the Year award at the annual IAGTO gala dinner in Estoril, Portugal.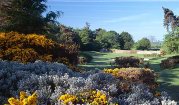 Druids Glen Golf Resort began in 1995 with the opening of Druids Glen Golf Course on the grounds of the old Woodstock estate that dates to 1600. The manor house, Woodstock House, was built in 1770 and now houses the Druids Glen Clubhouse.
No expense was spared in creating the 7,000+ Yard, Par-71 layout that has been referred to as "The Augusta of Europe". The course immediately won recognition and was awarded the Irish Open from 1996-1999 when Colin Montgomerie won twice, David Carter won in 1998 and in 1999 Sergio Garcia won his first professional tournament at 19 years of age.
2002 saw the opening of the Druids Glen Marriott Hotel and Country Club, enabling golfer from all over the world to stay and play in a luxurious golfing paradise. The hotel features 148 rooms together with swimming pool, leisure & spa facilities and a choice of 3 restaurants.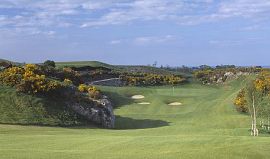 September 2003 saw the opening of the Druids Heath course, 'Nature's Gift to Golf'. In complete contrast to the parkland Druids Glen course, the Heath course is situated on a unique piece of land giving spectacular mountain and sea views. The course combine elements of links, heathland and parkland play and together with the Druids Glen course and the Marriott Hotel make Druids Glen golf resort a truly deserving winner of this award.
Mr. John O'Donoghue, TD, Minister for Arts and Tourism stated at the announcement that "Among the many searching criteria that were laid down, I am very happy to have been told that the client's emphasis on value for money clinched the award for Druids Glen. At a time when there is so much discussion about value for money amidst rising costs, it is encouraging that this outside judgement shows that in golf anyway, and especially in Druids Glen, we are still able to give that value on top of our excellent and friendly customer service".
Other nominees for the award included such pretigous resorts as:
Glen Eagles - Scotland
K-Club Resort - Ireland
Celtic Manor Resort - Wales
Monte Castillo Resort - Spain
Turnberry Resort - Scotland
Penna Longa Resort - Portugal
The IAGTO Awards was established in 2000 in recognition that annual golf holidays are the highlight of many of the world's 50 million golfers. The awards are chosen by golf tour operators to recognise exceptional value, service and quality provided by golf clubs and resorts.
Druids Glen previously received the 2002 award for European Golf Course of the Year.